Conor McKenna returns to AFL and joins Brisbane Lions; Jeff Kennett takes blame for Victorian government withholding funding for Hawthorn training centre; Paddy McCartin says Swans will 'make amends'; Lance Franklin still 'the man'
loading
McKenna will complement Daniel Rich off half-back and give emerging defender Darcy Wilmot time to establish himself in the running defender role.
McKenna will join the club via the pre-season supplemental selection period, capping off an excellent exchange period for the Lions after they made the preliminary final last season.
They landed the Bulldogs' Josh Dunkley, Hawthorn veteran Jack Gunston, and will select father-son prospects Will Ashcroft – who is a possible No.1 selection – and Jaspa Fletcher in the draft.
Meanwhile, the Bombers will begin pre-season on Monday with virtually a full complement of players to pick from with only James Stewart (foot) and Tex Wanganeen (navicular) likely to have a modified start.
Wanganeen, the son of club great Gavin, was ruled out mid-year with the navicular injury after five games.
Geelong, who arguably had as successful a trade period as the Lions, are also expected to add an Irishman to their roster in the off-season with talented Mayo youngster Oisin Mullin considering joining the club as a category B rookie.
Kennett takes blame for Hawthorn's funding gap
Departing Hawthorn president Jeff Kennett concedes his public criticism of Victoria's government has cost the club $15 million in funding for its new headquarters.
The Hawks this week announced a deal with ADCO Constructions to build the Kennedy Community Center at Dingley Village in Melbourne's south-east.
The facility will cost about $100 million, with a portion to be paid for by the club's recent sale of two gaming venues. There is also federal government and local council funding committed to the project.
But famously combative Liberal elder Kennett's repeated attacks on Labor politicians – slammed as "late-night tweets" by Hawks presidential candidate Andy Gowers – has led to state government funding being withheld.
"It's been earmarked, but it hasn't been allocated, and we've been waiting for that to happen," Kennett told SEN on Friday. "[The $15 million] has been designated but not handed over.
"I've got to be quite honest… it's because I, from time to time, have been known to be critical of the state government – just from time to time."
"I feel sorry for Andy. Look, he's a nice guy, but he's not connected," Kennett said. "He hasn't even taken out a membership of the club. When he left the board in 2018, he let his membership go.
"He only paid a membership fee last year when he thought he was going to stand for the board last year, and he still hasn't paid for this year."
Kennett also claimed the Gowers camp had not offered any difference in policy to entice members to vote for them.
"If you're standing for something, there should be an alternative plan or there should be an improvement on what you're doing," Kennett said. "But just to attack personalities is not right and it's not fair."
AAP
Swans ready to 'make amends', Franklin to remain 'the man'
Jon Pierik
Reborn Swans star Paddy McCartin insists the stinging grand final defeat will galvanize Sydney, and has declared veteran Lance Franklin will continue to be "the man" up forward next season.
McCartin, fresh from an overseas trip and spending time at his parents' home in Geelong, will officially resume training on December 5, with first to four-year players returning this month.
The Swans were must-watch viewing last season but their feel-good story fell flat on the biggest day of the AFL calendar when they were crunched by 81 points by Geelong.
There has already been media and public debate that a defeat of that magnitude can be a mental hurdle and set a team back, but McCartin says the Swans have other ideas.
"We didn't end the way we wanted it to unfortunately, but you take a step back, and you try and take the positives from the season. We have got to get to work, we will have a couple of weeks pre-Chrissie [Christmas] and have a good crack … everyone is pretty keen to try and make amends for that last day and get back to work," McCartin said on Friday, while promoting the "Blue Balloon Challenge", raising awareness and fund research into type one diabetes.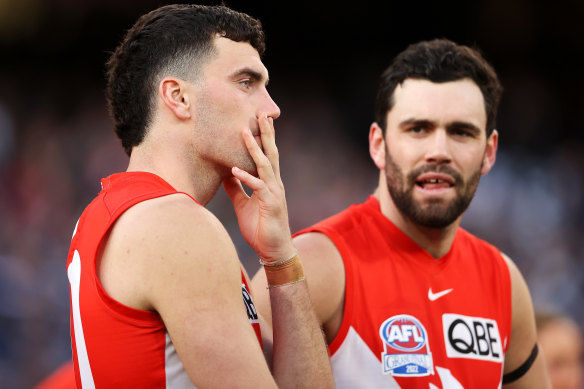 "We have got some great leaders in our team and some guys that have been around for a long time that have set the standard. Then we have some young guys, for a lot of them it was their first experience playing in a prelim and grand finale, like myself, so I think we are all going to be a lot better for the experience."
Franklin, 35, last season became just the sixth player in VFL-AFL history to reach the career 1000-goal milestone. He finished the season with a team-high 52, but was goalless in the Swans' two finals at the MCG, including against the Cats.
McCartin dismissed chat that it was time for the Swans to consider easing the focus on Franklin inside attacking 50, where marking threats Will Hayward (34 goals in 2022) and Isaac Heeney (49) also roam.
"I kicked another 50-plus [goals] which puts him in the top seven or eight of the league. He is definitely going to be the focal point again," McCartin said.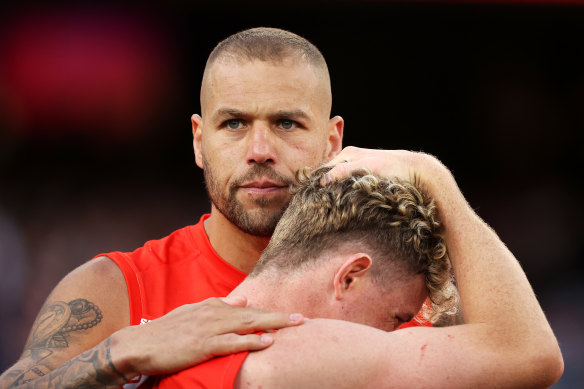 "I don't think there will ever be a day when he plays when he isn't the focal point, the big fella. He is the man. Finals – I don't think anyone would have gone any good down there, especially on grand final day. It was impossible. He is a gun. He will be back next year and dominating, I am absolutely sure about that," he said.
McCartin said it was "bloody unfortunate" marking tall Sam Reid had an adductor strain in the preliminary final. He played hurt in the grand final, before being subbed off early in the third term.
loading
"He was a big part of the team, in the back half of the year especially, played a massive role… he is in good spirits, he is fine. He will come back ready to roll again, just as everyone will," McCartin said.
A type one diabetic, and having overcome eight concussions, McCartin was one of the standout stories of the 2022 campaign. Delisted by the Saints after the 2019 season, he sat out 2020, before returning via the Swans' VFL team in 2021. A one-time key forward, he was taken as a pre-season supplementary selection in January, and went on to play every game bar one in a new role as a key defender.
His determination to overcome head injuries was an inspiration to teammates, just as he had been in learning to play with diabetes which requires him to monitor his blood sugar levels more than 10 times each day.
Raising awareness of diabetes week, McCartin said the "Blue Balloon Challenge", which invites the public to post a photo or film of themselves as they try to keep a balloon in the air, a metaphor for the balancing act needed to manage diabetes, would raise awareness of the 125,000 Australians who have the type one condition.