Entergy is now using lasers to protect part of the power grid in New Orleans from birds and critters.
The company on Wednesday said it has installed a laser system to keep birds away from its Derbigny substation, which supplies power to about 9,000 customers in the Central Business District. The project was proposed right before Hurricane Ida hit and then delayed due to storm recovery efforts.
Animals have caused outages at the Derbigny substation at least twice in the last 18 months, according to Entergy. Most recently, a bird got into the substation in March and knocked out power to about 10,000 customers in the Central Business District, Treme, Mid-City and Central City.
'laser show'
The "Laser Bird Deterrent Systems" use mounted lasers to shine colored lights on equipment and spook birds, according to an August 2021 presentation Entergy made to the City Council. The lasers are designed to deter birds without irritating the human eye, Michelle Bourg of Entergy said at the time.
They are colored lights and do not hurt the birds or people. The system produces what Bourg called a "laser show."
"If the bird can land either in the substation with this laser show going on, or somewhere outside, our hope is that bird would choose to land outside," she said at last year's presentation.
The systems were being installed at Entergy substations in Hammond and Arkansas in 2021 and a third trial location was planned in New Orleans, but Hurricane Ida delayed the plans.
The initial estimate from Entergy was about $200,000 for the laser system.
Other upgrades made
The lasers were part of several upgrades Entergy said it made at the substation to improve reliability and shorten restoration times in the area.
Other projects were:
Upgraded fencing to prevent further animal intrusions
Additional passive animal mitigation
Multiple breaker replacements
Company officials did not release additional details about those projects, but they previously said they would be installing a fake animal to scare off birds.
The utility also uses a host of different types of fences, electrified devices and animal guards to protect transformers and other infrastructure from birds, rodents and other pests, according to a presentation submitted by Entergy last year to the City Council's utility committee.
The substation has three transformers for redundancy, company officials said, and there's ongoing work that will help isolate problems, protect equipment and minimize the length of outages. The project should be completed by the end of the year.
Cause for outages
A statement from Entergy New Orleans said the utility company has spent about $397 million on projects since 2016 to strengthen its infrastructure. The upgrades, the statement said, have reduced the frequency of outages by 30%. Entergy did not say what the time period is for the comparison.
However, frequent blue-sky outages were discussed recently by the City Council.
Entergy officials said trees, small animals and poles toppling from the after-effects of earlier storms can all be the cause. Yet they were able to offer few stats about how often such blue-sky outages occur, blaming a software update a few years ago that changed the way linemen enter data.
Joseph Rogers, a technical advisor to the council, in August said the average number of outages was 1.1 per customer last year, down from a recent peak of 1.61 in 2016.
Between 2013 and 2016, Entergy's reliability slipped from the top half of utilities nationally to the bottom fourth, according to Rogers.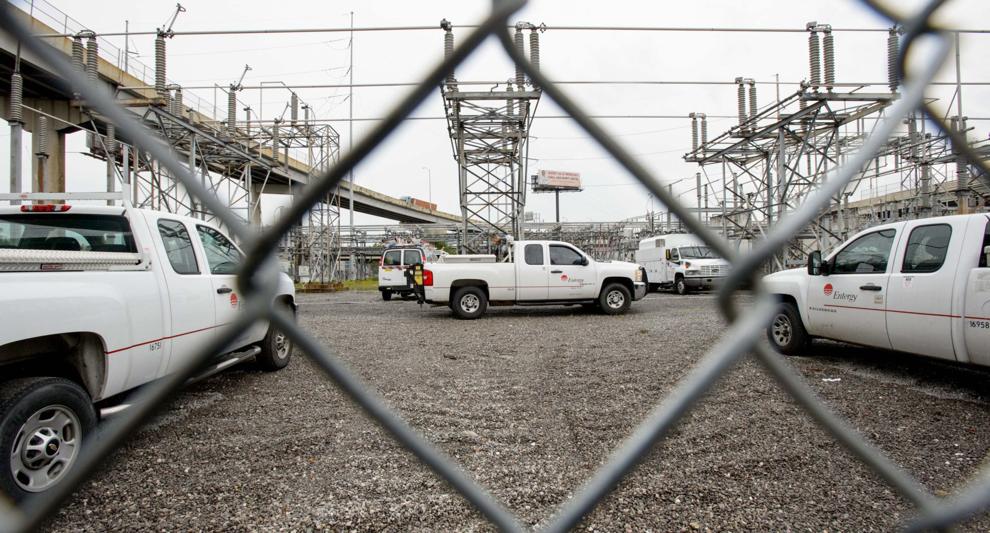 In response, the council slapped the utility with a $1 million fine. Entergy filed a lawsuit. in June, a state judge vacated the penaltyon the basis that the council didn't have pre-existing reliability standards.
Now, Rogers has crafted a proposal for the council's first-ever reliability rules. Under his plan, Entergy could be fined if it exceeds an average of 1.53 outages per customer per year. If the standards had been in place five years ago, Entergy could have been dinged $1 million.
The council's plan would set minimum reliability standards for the city's overall grid, but it would also require Entergy to identify and fix problem feeder networks, or face a $500,000 fine.
Staff writers Matt Sledge and Ben Myers contributed to this story.