'Lifetime memories': Injury forces Group 1 winner into retirement
The stellar racing career of Group 1 winner Gytrash is over.
The six-year-old was X-rayed on his troublesome knee this week and he still has bone fragments preventing him from racing.
He had his last public appearance on Tuesday when he finished second in a jumpout at Morphettville.
Trainer Gordon Richards has made the decision to retire the $4.5m earner who was bought for only $40,000 as a yearling.
TODAY! BECOME A RACENET IQ MEMBER FOR ONLY $4.99* (min cost)
"It's a sad day, an end of an era, I guess," Richards said on Friday.
"He battled one knee injury most of his career, two operations and plenty of racing eventually, but we didn't want to subject him to another operation as a rising seven-year-old, he's done plenty for us, in fact, more than plenty for us."
Gytrash had 28 starts for 10 wins and 13 placings.
The Lope De Vega gelding earned a reputation as "The Giant Killer" because he had a habit of beating some of Australia's best sprinters.
Trainer Gordon Richards.
His biggest wins were in the 2020 Lightning Stakes, Concorde Stakes and the Yes Yes Yes Stakes.
He was placed in the 2020 The Everest, Newmarket Handicap and William Reid Stakes.
Some of the horses he beat in his career included Nature Strip, Eduardo, Redzel, Santa Ana Lane, Loving Gaby, Bivouac, Sunlight, Behemoth and Tofane.
Gytrash, affectionately known as "Lewis" by his connections, struggled to recapture his best form after he injured his knee and was operated on after winning in the Yes Yes Yes Stakes.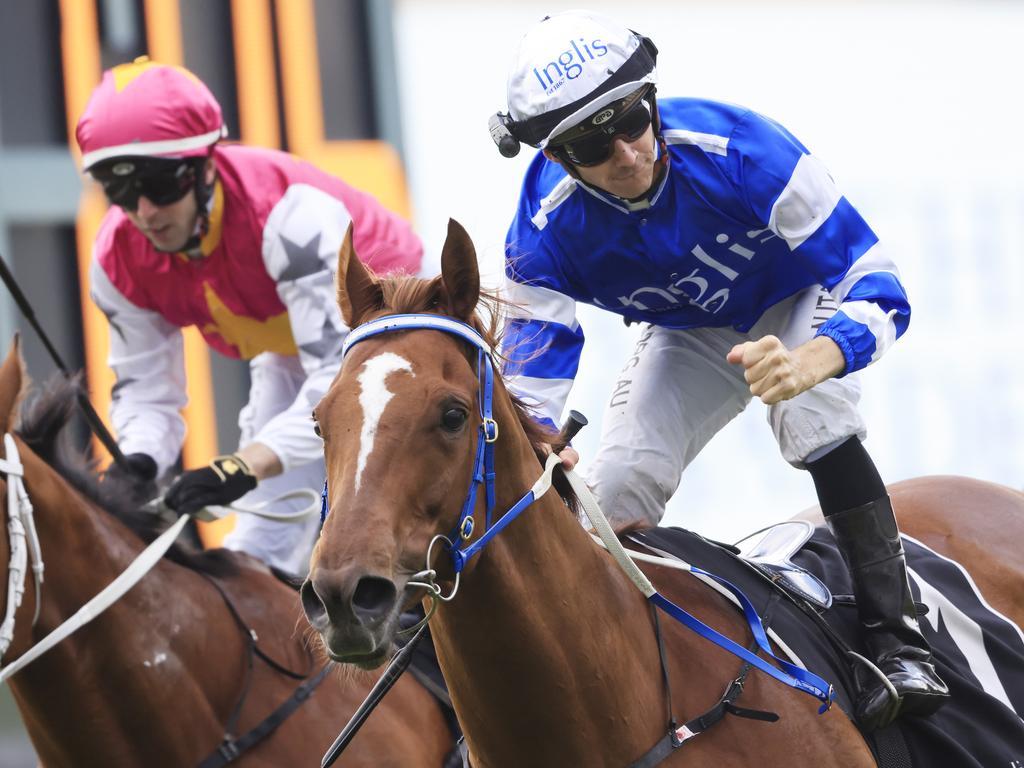 Jason Collett on Gytrash wins the Yes Yes Yes Stakes.
Richards added: "He's been fantastic and it would've been even more fun (for the stable and owners) if not for Covid, but for a reasonably cheap horse to go that way, it's a bit sad, but they all have to retire some time."
"If he had been totally sound all his life then it's a shock when something like this happens but we've been patching him up and keeping him going and we realized he had to stop, or finish up somewhere, and now it has, " he said.
"There's a place here in South Australian they're setting up as a Living Legends-type place, they rang me four months ago that they were keen to take him there, so I'm just waiting for them to get back to me. "
Part-owner Simon Charlton, who was the marketing guru of the team who made Gytrash beer cans, hats and ties, said his retirement was a sad day.
"Gytrash unified a group of people who didn't know each other and we shared some great times over the journey and they are memories that will last a lifetime," he said.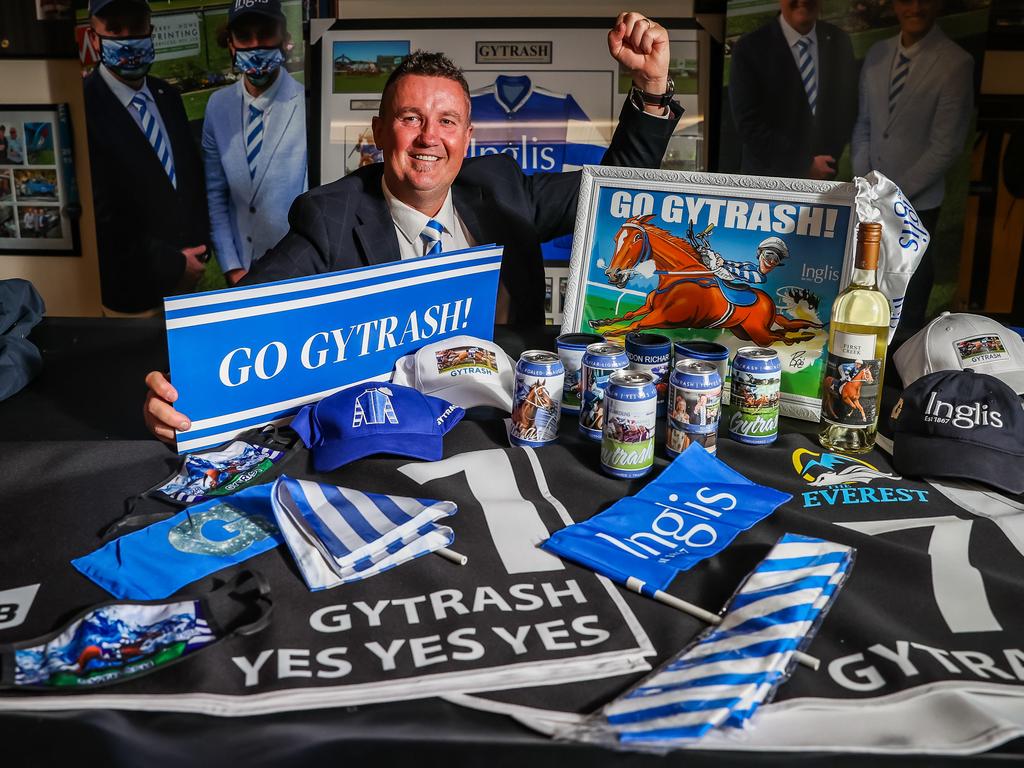 Gytrash part-owner Simon Charlton with the huge array of memorabilia.
"The horse put himself on the world stage as one of the best sprinters going around and he's done us all proud.
"We can't thank the team at Gordon Richards Racing enough for what they've done and the amazing times we've had as an ownership group.
"When you go into a horse you have no idea what you've got and we were just lucky enough to have Gytrash who has given us the ride of our lives.
"He deserves the best paddock he can find to live out his years."
Gytrash's last run was in the Black Caviar Lightning Stakes three weeks ago when he finished last beaten by 12 lengths.
His first start in a race was at Morphettville in February 2018.
Gytrash was bought by Richards at the Inglis 2017 Melbourne Premier Yearling Sale for $40,000.
He was sold as a weanling the year prior for $70,000.
– additional reporting by Gilbert Gardiner.
GYTRASH'S BIG RACE WINS AND PLACEMENTS
1st Black Caviar Lightning Stakes (2020)
1st Yes Yes Yes Stakes (2020)
1st Concorde Stakes (2020)
1st Irwin Stakes (2020)
2nd William Reid Stakes (2020)
2nd The Goodwood (2020)
2nd The Heath (2019)
3rd The Everest (2020)
3rd Newmarket Handicap (2020)
3rd The Goodwood (2021)
3rd The Shorts (2021)
3rd Euclase Stakes (2019)
Breed record: 28 starts: 10 wins, 6 seconds, 7 thirds.
prizemoney: $4,488,775