Mega Monday Hallway reveals leave Shaynna Blaze 'disgusted' before tensions ignite in the final weeks| Season 18
With Hellway in full swing, Blockheads have a mammoth task ahead of them as they race to finish off their hallways, laundries, powder rooms and mudrooms in time for judging.
All up the teams will be delivering 25 spaces in time for reveals on Monday night and a sneak peek hints that we're in for a big one.
Stream the latest episodes of The Block for free on 9Now.
Judges Shaynna Blaze, Neale Whitaker and Darren Palmer have their work cut out for them as they make their way through the spaces this week.
"25 jaw-dropping Room Reveals hit mind blowing all time highs," teases the voice-over.
"This is stunning," Shaynna says as she walks into one home.
"It's heaven this house," Darren marvels at another.
EPISODE 32 RECAP: A 'fraudulent' document threatens one team's chance of finishing and Sarah-Jane's audit request backfires
But we know it's not always a night of delight for the judges and one home seems to turn Shaynna off from the minute she arrives at the door.
"Oh god, you're gonna wanna see this," she warns the other judges as she prepares to walk in.
"This is horrible… They're disgusting."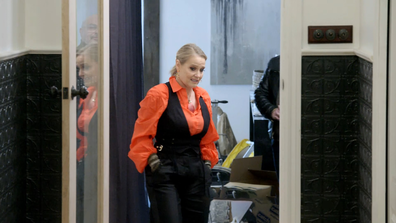 But that's not all the drama set to unfold on The Blockand it seems like tension is about to heat up on site in a preview of what's still to come this season.
"The Block's final weeks ignite," the voice-over says.
READMORE: Scott Cam offers teams $2,000 out of his own pocket for the winner of the Gin Challenge
Scott Cam breaks some bad news to one team.
"You've got no more money… You're gone," he says.
While it's not clear which team has run out of money, Sarah-Jane flashes up looking absolutely horrified.
"One couple, cut off," the voice-over adds.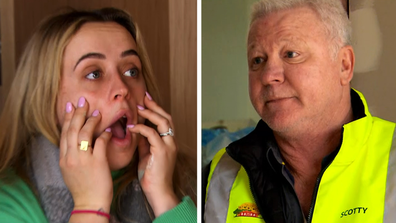 Budget blowouts seem to be just the start of the drama, with teams clashing and it looks like we're in for plenty of tears.
"Me and Omar have sacrificed more than you guys," Oz tells Jenny and Rachel.
"No…hang on, mate," Rachel snaps back.
READMORE: Scotty's house renovation so far
But despite the drama, we're gearing up for some reveals on a scale "never seen before" on The Block.
Finally, we've got a glimpse of some stunning backyard features that will be revealed in the coming weeks.
There's going to be a basketball court, tennis court and a mini golf course.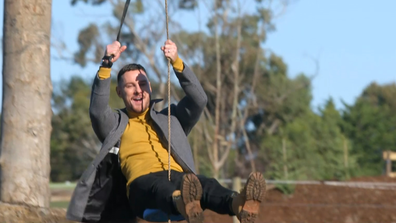 "This is the dream," Shaynna declares in one outdoor space.
It seems like Darren is really enjoying himself too and footage cuts to him gliding through one backyard on a flying fox. Yes, a flying fox!
If the preview alone is anything to go by, Monday's Room Reveals are just the start of an unmissable final weeks of The Block.
In Pictures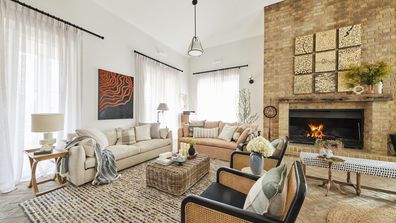 Scotty's house renovation so far
Bedrooms, bathrooms and more revealed.
ViewGallery
The Block Room Reveals will air on Monday at 7.30pm and episodes will continue Tuesday to Thursday at 7.30pm on Channel 9. Catch up on all the latest episodes on 9Now.