Melbourne's Moulin Rouge performance was canceled mid-show on New Years Eve after staff tested positive for COVID-19
Spectators in Moulin Rouge! The musical They were told to leave Melbourne's Regent Theater midway through the show on Friday afternoon after a company staff member tested positive for COVID-19.
The organizers canceled the performance midway through the second act, telling the audience that the show would not continue and that Ticketmaster would be in contact with them shortly.
They did not specify who had received the positive result.
In a statement, a spokeswoman said the decision was due to a large number of precautions.
"We made the decision to discontinue this afternoon's performance of Moulin Rouge! The musical after a positive COVID-19 test result was made known to us within the company at large, "he said.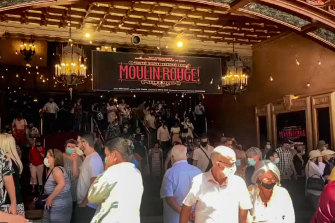 "We will have an update regarding future performances as soon as possible."
The company was scheduled to perform once or twice a day through April. It is unclear how many performances will be affected.