Stewards impose hefty ban for Warne horse fall
Jockey Ben Thompson has been suspended for four weeks by Queensland stewards who held him responsible for causing the interference that led to Ryan Maloney tumbling off a horse part-owned by Shane Warne.
In a 9am hearing on race morning at Eagle Farm on Saturday, stewards charged Thompson with careless riding over the incident at Ipswich on Wednesday.
Stewards panel chair Paul Zimmerman later found the carelessness was in the high range.
Thompson had pleaded not guilty.
In finding Thompson guilty and handing down the four-week suspension, Zimmerman told the jockey he could have expected at least a six-week ban if his prior riding record had not been virtually exemplary.
Thompson, Maloney and fellow jockey Tegan Harrison were called to give evidence in the hearing which took over an hour.
Ben Thompson has been handed a four week suspension for causing the interference that led to Ryan Maloney tumbling off Sacred Oath at Ipswich.
Maloney, who was wearing a black armband when riding Sacred Oath in Warne's honor on Wednesday, had been briefly knocked out after being forced into the running rail and falling off after copping interference.
Stewards were looking into the incident in which eventual winner Tesaura crossed from out wide under Thompson causing a cannonball effect with The Gray Panther (Harrison) forced into Sacred Oath.
After viewing stewards footage of various angles of the race, Thompson conceded in the hearing that he had come across on an "acute angle" on Tesaura.
However, he insisted he was clear of rival horses when he started coming in and said he was shocked by the incident.
Thompson said he felt the interference was exacerbated by the relative inexperience of the horses involved and said "there is no doubt the (racing) manners of Tegan Harrison's mount contributed to it."
"The last time I looked, I was clear (of the inside runners)," Thompson told stewards.
"Her (Harrison's) horse rushed up quickly and made a mess of it."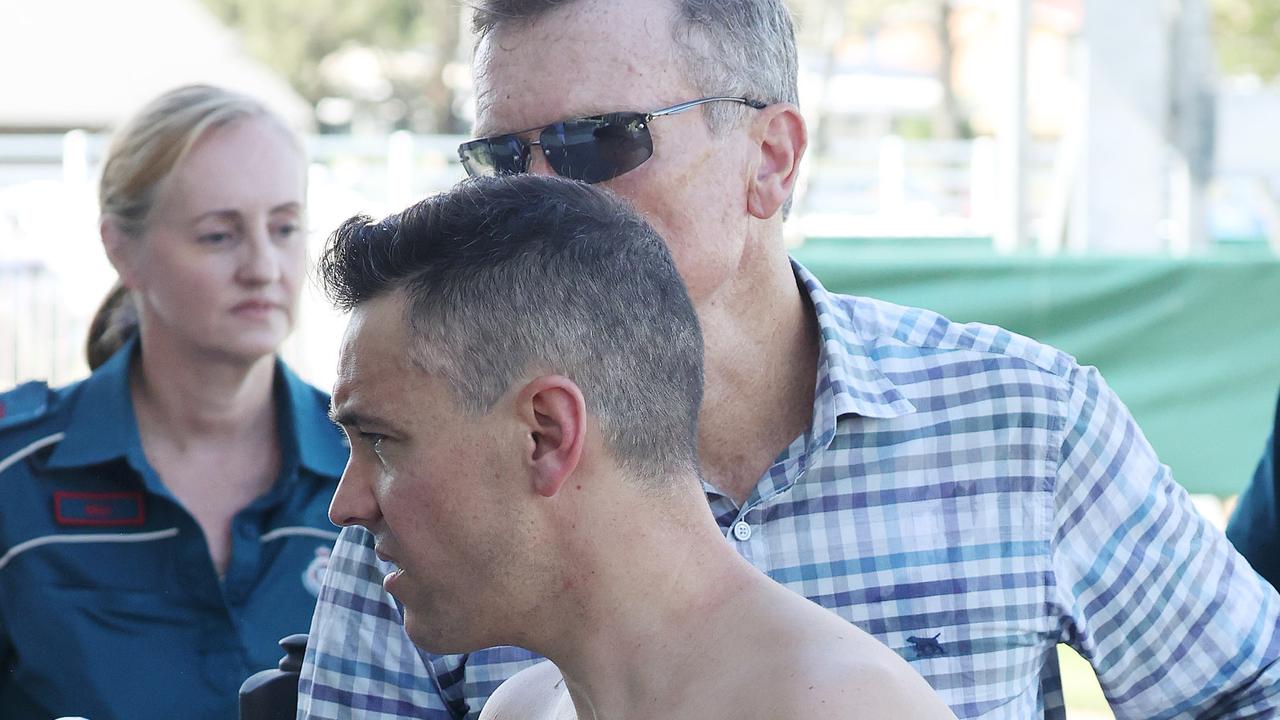 Jockey Ryan Maloney after falling off Sacred Oath. Picture: Liam Kidston
Thompson said he had attempted to take evasive action to pull his mount away from Harrison's horse but his horse didn't respond immediately.
Maloney, who passed a cognitive test to take his rides at Eagle Farm on Saturday, told stewards he didn't have a clear recollection of the incident and hadn't wanted to view the footage again.
"When my horse hits the rail, he obviously panicked," Maloney said.
Harrison told the hearing she did not know if Thompson had realised, when he crossed from out wide, that Maloney and Sacred Oath were on the inside of her horse.
Zimmerman, in handing down his ruling, said the stewards panel did not agree that Harrison's horse was unruly before being interfered with in the running.
Zimmerman handed down a four-week careless riding ban which Thompson has deferred for nine days.
It means Thompson will be able to ride Good Idea in Monday's Adelaide Cup as he strives for back to back Adelaide Cup wins on the Phillip Stokes-trained stayer.
Thompson will also be able to ride at the rich QTIS Jewel meeting on the Gold Coast on March 19 before his ban kicks in on March 21.
He has an option to appeal his suspension.