The Block 2022 Episode 34 recap: Omar and Oz clear the air with Foreman Dan and there are 'major issues' with Tom and Sarah-Jane's build
mondays on The Block are usually the day to get things rolling on site and for the teams to get cracking on another week. So when things kick off on a public holiday it means no power tools and not a single tradie on site.
But that doesn't mean there's nothing for the Blockheads to do as they head into another Guest Bedroom Week.
Stream the latest episodes of The Block for free on 9Now
Foreman Keith is quick on the contestants' cases, reminding them now's the time to clean up their sites which "look like tips."
And while for now Tom is in Keith's good books for cleaning up, it's not long before he finds himself on the wrong side of the foreman.
"I was gonna do a sneaky today but I didn't want to piss you off," Tom tells Keith.
Tom explains his plan to demolish a wall in one hit by clipping a single row of nails and letting the whole wall fall.
"You can't do that though, it's dangerous," Keith says.
Tom jokes that "it's the perfect day to do it because no one's around."
But Keith gives Tom a firm "no" and reminds him he "needs to pull it down piece by piece."
After his discussion with Keith, Tom decides he doesn't like the answer he's gotten and asks Foreman Dan who he manages to get permission off.
"It's like when your mum says no, so you go ask your dad – that's exactly what he did," Sarah-Jane laughs.
While Tom's sneaky wall demolition all blows over as a laughing matter, Foreman Keith and Dan are both in agreement on some "major issues" in House 1.
The foremen have a word to Tom and his builder Mick and point out some problems "that are going to be very hard to fix".
Foreman Dan notices the differences in floor height throughout the house.
"Every room coming off that hallway is either 15mm high or 15mm low," he says.
"This is a brand new build, every threshold should be dead level, but we've got steps everywhere.
"I've never seen a hallway this bad on The Block before."
It's not just the floors, Foreman Keith spots the barn door to Tom and Sarah-Jane's butler pantry isn't attached to a track, instead it's hanging off the wall and causing it to bulge.
"Tommy has been producing an amazing house, but we've been starting to discover some really bad defects," Dan tells cameras.
Keith tells them there'll be "no more shonkiness" from Tom and Sarah-Jane or their builders.
Builder Mick isn't interested in the problems, saying "there's no issues, only solutions".
Tom also isn't worried and says "it's an easy fix".
But Keith isn't so sure and tells cameras "it's gonna take quite a lot to fix this house up."
If there's anyone who will understand Tom's frustration that the foremen are going through his house with a fine tooth comb, it's Omar and Oz.
Last week the pair clashed with Foreman Dan over the standard of work in their mudroom.

Dan thought the boys were trying to "hide their mistakes" and Oz wasn't in the mood to cop any of Dan's criticism.
Omar and Oz think now is as good a time as ever to clear the air with Dan.
"It was very important to have a chat with Dan, we didn't see eye to eye last week," Oz tells cameras.
The three sit down to have a frank conversation.
"The things that you've been saying that have come across as hurtful to Oz and I," Omar tells Dan.
"The word dodgy is coming out a fair bit, which is completely against what Oz and I do."
Dan admits he said the boys were "covering up problems with other problems" and says he should've articulated himself better.
Omar and Oz worry that the word 'dodgy' could perpetuate stereotypes surrounding people of their background.
"We want to change people's perspective of two young Muslim kids who are trying to lead a pathway for other kids who don't think this could happen," Omar says.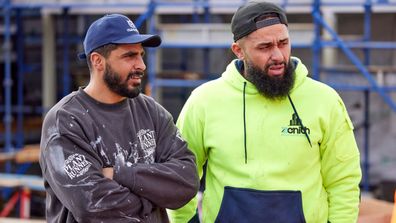 Dan assures them that their concerns, while warranted, "couldn't be further from the truth."
"It's not who I am as a person, I don't care who you are, where you're from or what you believe in, I take all that away. I respect you guys, I respect your culture and everything about it. "
Dan admits he was hard on the boys, but is with all teams, and only because he wants everyone to finish to a high standard.
The boys say they "know Dan's on their side" and are looking forward to starting a fresh week alongside the foreman, as is he.
READMORE: 6 tips for a more sustainable renovation
"It's great that Omar and Oz and I had that chat. It's a difficult chat to have especially about culture and religion, but it's good to clear the air," Dan tells cameras.
As Landscape Week approaches, there's lots of talk about progress and budgets.
While the contestants have been able to save for and start their landscaping from the beginning, it's been more difficult for some teams than others.
Ankur and Sharon have made next to no progress and are waiting for a "money fairy".
"Our landscapers can't start certain things until payment is made for materials that they need, and obviously we have no money," Sharon tells cameras.
Tom and Sarah-Jane are "miles ahead of everyone else".
The couple have won $70,000 in cash but admit even their landscaping budget is running low. Sarah-Jane does some quick maths and estimates that some people "would have to be $40k, $50k in the red."
With most of the teams' budgets looking grim, they can't start on landscaping until the money for that week is released.
READMORE: Tips to help protect your home from storms and severe weather
"We're running out of time, we're running out of money, that's a deadly combination," Dan says.
In Pictures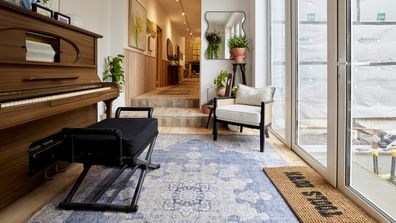 Scotty's house renovation so far
Bedrooms, bathrooms and more revealed.
ViewGallery
The Block airs Tuesday to Thursday at 7.30pm with Room Reveals on Sunday at 7pm on Nine. Catch up on all the latest episodes on 9Now.