The Block 2022: Neale Whitaker weighs in on Omar and Oz's shock disqualification over their discounted baby grand piano
The Block 2022 Judge Neale Whitaker has voiced his opinion after Omar and Oz's shock disqualification during this week's Room Reveals.
In an interview on Today Extra on Monday, the interior designer said the duo "deserved to take the punishment" after breaking one of The Block's basic rules.
Stream the latest episodes of The Block for free on 9Now.
"The rules, are the rules, are the rules," Neale began to host David Campbell. Watch the full clip in the video above.
Omar and Oz had snapped up a baby grand piano for their room for just $7,500. This broke a Block rule that says you can't purchase an item for less than 50 per cent of its retail price – which, in this case, was $36,000.
"Even they know the rules like all the contestants do, and they are not supposed to purchase anything at less than 50 per cent of retail price. And the guys did," Neale said.
EPISODE 29 RECAP: Scott Cam disqualifies one team while Rachel and Ryan finally make a breakthrough
"So while on the one hand it was fantastic to see a grand piano on The Block – we have seen one just once before I think – at the end of the day if they broke the rules. They deserve to take the punishment."
The pair were later disqualified from winning and had three points deducted from their score, leading Rachel and Ryan to take the crown after landing two 10s from the judges.
Neale went on to say that Rachel and Ryan "certainly did" deserve to win for their living and dining room.
"Rachel and Ryan presented such a perfect room; it was a real triumph of scale, proportion and flow," he said. "Those big rooms, they present such massive challenges."
READMORE: Dan and Dani disappointed with the Blockheads' living and dining rooms
In Pictures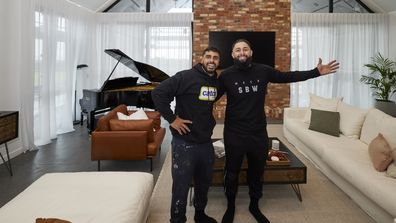 Omar and Oz's Living and Dining Room
One item gets the boys disqualified.
ViewGallery
He also commented on the lowest scoring team of the week, Ankur and Sharon, who didn't manage to get their mammoth space completed in time for Room Reveals.
"Last night's room for Ankur and Sharon was a difficult one, as they weren't confident of the choices made for that big space," he added.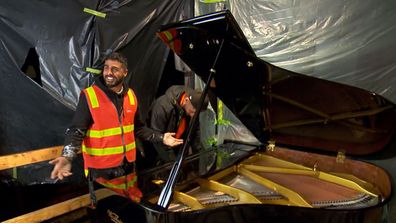 "Space can be a luxury, but when it's too big it can also be a curse.
"I don't think Ankur and Sharon really thought about how they were going to fill that space."
In Pictures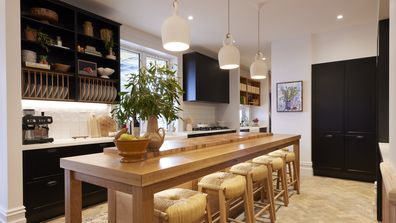 Scotty's house renovation so far
Bedrooms, bathrooms and more revealed.
ViewGallery
The Block airs Sunday at 7.00pm and Monday to Wednesday at 7.30pm on Nine. Catch up on all the latest episodes on 9Now.